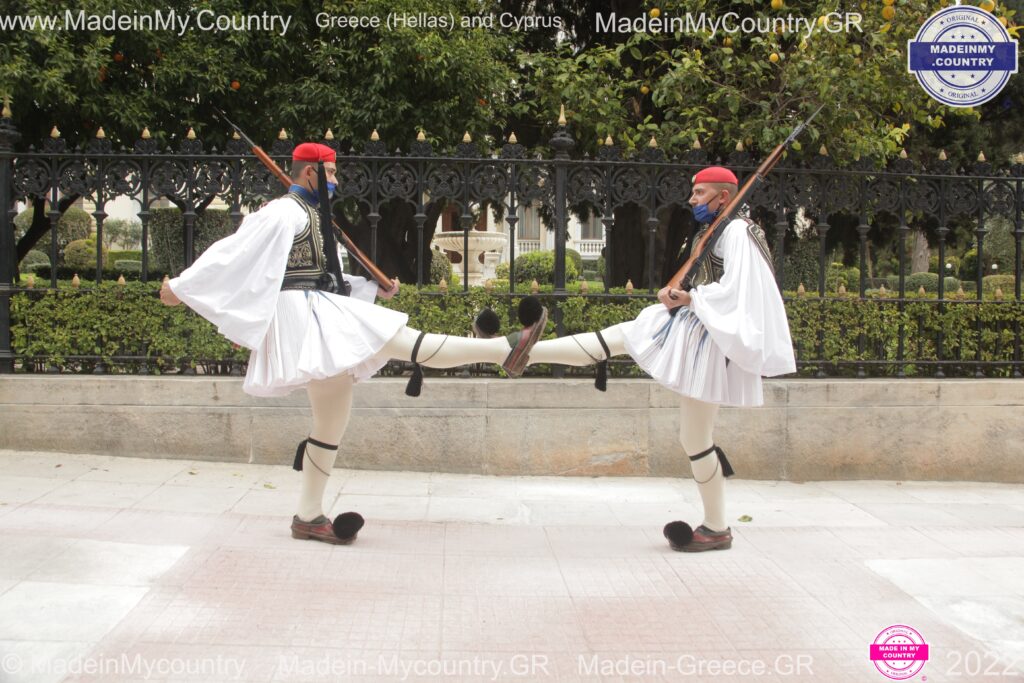 You can see more in our "Galleries" section:
Galleries
Χορηγοι τοπικης ιστοριας, πολιτισμου και τεχνων. #MadeinMycountry
Χορηγοι αναδειξης τοπικης ιστοριας, πολιτισμου και τεχνων.
Τοπικο, παραδοσιακο, "Φτιαγμενο στη χωρα μου"
«Τα καλύτερα της χώρας μας».
https://madein-mycountry.gr/
http://madeinmycountry.gr/
https://greekcypriotglory.com/
https://madein-greece.eu/
https://madein-greece.gr/
Local, traditional, Made in My country. Sponsors of local history, culture and Arts.
"Showcasing you country's Best" !
Η Προεδρική Φρουρά είναι τελετουργική μονάδα πεζικού, η οποία φρουρεί τον Τάφο του Άγνωστου Στρατιώτη και το Προεδρικό Μέγαρο στην Αθήνα. Η μονάδα είναι ξεχωριστή για το γεγονός ότι αποτελεί τη τελευταία ενεργή μονάδα Ευζώνων στις Ελληνικές Ένοπλες Δυνάμεις. Είναι στενά συνδεδεμένη με την παραδοσιακή στολή του Εύζωνα, η οποία εξελίχθηκε από τα ρούχα που φορούσαν οι κλέφτες στην Επανάσταση του 1821. Το πιο χαρακτηριστικό μέρος της στολής είναι η φουστανέλα. Στις χρονικές περιόδους 1868-1914 και 1937-1973, η φρουρά είχε τμήμα ιππικού.
Greece's presidential guard. A historical guard established since the Greek revolution of 1821 agains the ottomans.
MADEINMYCOUNTRY is… INDEPENDENT, AD-FREE, UNCOMPROMISING, WORLDWIDE, AUTONOMOUS, HONEST, GIVING EQUAL OPPORTUNITY
#MADEINMYCOUNTRY, #MADEINMYCOUNTRYGR, #MADEINMYCOUNTRYCY, #MADEINMYCOUNTRYEU, #GREECE, #HELLAS, #CYPRUS, #EU, #BALKANS, #EVROSCENTER, #MACEDONIACENTER, #MADEINGREECE, #MADEINMACEDONIA, #MADEIN, #MYCOUNTRY, #BALKANSCENTER,#SAYMADEIN2WIN,#ITISMADEINMYCOUNTRY,#BESTOFGREECE,#FEELTHEBESTOFGREECE,#ORIGINAL, #TRADITIONAL,#INDEPENDENT, #ΕΛΛΑΔΑ,#ΕΛΛΑΣ,#ΚΥΠΡΟΣ,#ΑΘΗΝΑ,#ΠΟΛΙΤΙΣΜΟΣ,#ΕΛΛΗΝΙΚΗΙΣΤΟΡΙΑ.#ΑΤΤΙΚΗ